Monday, January 29, 2018 / by Sean Zanganeh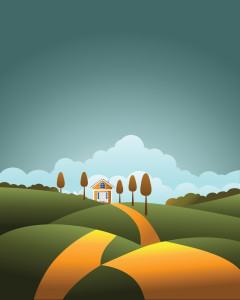 Now that the kids have gone back to school, vacations are over and the weather is starting to turn, it's time to get serious about hunting for a house. Homebuying used to be simple: you saved up some money for a downpayment, enlisted the aid of a real estate agent, found the home you wanted, made and offer and closed the deal. But since the housing meltdown, first-time buyers need savvy skills to negotiate the complexities of credit scores, pre-qualifications, pre-approvals, loan options and closing.
Last April, FannieMae announced its new HomePath Ready Buyer Education Program for first-time homebuyers.
Available completely online, you can attend homebuyer school from the comfort of your living room. When you "graduate" you may qualify for assistance for up to three percent of the purchase price in closing cost toward purchasing a qualified HomePath property. According to FannieMae, this means that on a $150,000 home, you could save up to $4,500 in closing costs on a HomePath qualified home. (Homepath homes are those owned by FannieMae.) More than that, unlike your college tuition, Fannie Mae says it will reimburse your $75 tuition cost at the time of closing on your new home. What could be better than that?
What you'll learn
Buying your first home is daunting. You have your own fears of taking this gigantic financial step mixed with a boatload of new information, complex processes and paperwork, and new responsibilities. The daunting task of saving up the downpayment actually pales in comparison to the paperwork and meeting the other requirements of purchasing a home with a mortgage.
The total course should take you about four to five hours to complete and you'll take a quiz (no daunting final exam here) at the end. In the nine, 30-minute sessions, you'll learn:


How to determine what you can afford


Homebuyer pitfalls to avoid


Ways to decide which home to buy


Options for lowering your down payment requirement


The best things to include in your offer


How to navigate closing complexities


The course exceeds both HUD standards and the National Industry Standards for Homeownership Education and Counseling, but is designed to be both user-friendly and doable from you're the comfort of your sofa, smart phone or tablet.
Eligibility for the closing cost assistance and reimbursement of the training cost requires that the buyer complete the entire HomePath Ready Buyer training course online and receive the Certificate of Completion.
Buyers must be first-time homebuyers. NOTE: A first-time homebuyer is defined as a homebuyer that did not own property in the last three years, so former homeowners affected by the recession that have improved their credit score can qualify for the program.
The buyer must plan to live in the property as their primary residence. That means that action or investor sales are not eligible.
Exclusive offers
Completion of the HomePath program offers buyers an exclusive "first look" at newly listed foreclosed properties. During the First Look™ marketing timeframe, buyers can make an offer on a foreclosed home without competition from investors, flippers and other buyers looking for a great deal. Utilizing the First Look program, Fannie Mae hopes to promote homeownership and be instrumental in contributing to neighborhood stabilization. When homebuyers can negotiate and purchase foreclosed properties before they are made available to investors, the potential for pride of ownership to lift the community increases.
Fannie Mae uses real estate professionals to complete the home-buying process, so if you're interested in the HomePath program, contact your real estate professional for more information.
Compliments of Virtual Results